Kevin Ward Runyan


Kevin Ward Runyan
Home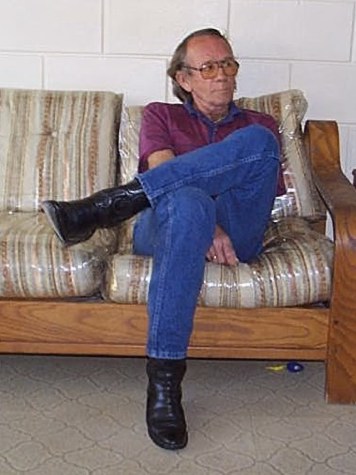 Kevin Ward Runyan August 13, 1949 - December 14, 2001
1. KEVIN WARD11 RUNYAN (IRA WARD10, JOHN RANSOM9 RUNYON, JOSEPH ADRON8, JOHN COMPTON7, ADRON6, JOHN5, ISAAC4, JOSEPH3 RUNYAN, THOMAS2, VINCENT1 RONGNION) was born August 14, 1949 in Ashland, Kentucky, and died December 14, 2001 in Indialantic, Brevard County, Florida.
Kevin W. Runyan attended elementary school in Indialantic, Florida and went on to Junior High School and High School in Satellite Beach, Florida. He did not like school, and he quit as soon as the law allowed. He later received his GED while serving in the U.S. Army.
After leaving school, Kevin worked as a auto mechanic at a local repair shop, then he got a job with the Volkswagen dealership located on US1 in Melbourne, Florida. Thereafter, he was drafted into military service.
Kevin W. Runyan served in the US Army during the years of 1968 to 1970. He was stationed at Fort Bragg, North Carolina, in the motor pool for a year and his last year of service was in Korea along the DMZ.
When he returned from Korea, Kevin ran with his father, Ira W. Runyan, a Texaco Gas Station located in Indian Harbor Beach, Florida for a year.
In September, 1971, he was employed by the City of Melbourne, Florida, Airport Authority, and he remained with them until his 30 year retirement September, 2001. He attended a retirement party sponsored by his employers in October, 2001. Kevin died in his sleep on December 14, 2001, shortly after receiving his first retirement check
Kevin was never married, so he was free to do anything he wanted, and thatís what he did. It was not unusual for him to decide at night that he would drive to Ohio or some other place the next morning. He would take trips out west to Vagas for vacation about once a year. He used to go camping in the Florida Ocala Forest throughout the year, and he enjoyed going fishing with his friends.
Kevin had no hobbies, and he never stayed interested in any one thing for long, but was always experiencing new things in his life.
Kevin died young, but he lived life the way he wanted to.